New York Comic Con Review
For the 4th year of the New York Anime Festival, ReedPOP, decided to merge it with the industrial giant of New York Comic Con and take up the ENTIRETY of New York's Javits Convention Center. For three days, the streets were filled with nerds, and it felt great to be a part of something so large and driving in pop culture.
Despite the guest list of every boy's dream, I did not go autograph seeking, even though I ended up running into 30 Rock's own Scott Adsit as he was chilling with comic book artists:
Friday I ran into Kroze and Kirbopher of the Yu-gi-Oh Abridged Series. They took me to see Kirby Krackle, a rock band dedicated to geeky songs about comic books, video games and zombies. I enjoyed it very much.
For my show on Saturday I was welcomed by a HUGE crowd of otaku who came to show support for Uncle Iroh's Wedding Toast with an event know as Krozeplaying, as Kroze appeared for the first time as Zuko from Avatar: the Last Airbender. This was his first time cosplaying, it just goes to shows that Kroze is, in fact, a bro-ze. Fans' support was overwhelming and the otaku spent the weekend downstairs in the maid cafe like a dance party. In fact, I had a few friends who got together with a special message for my cousin from Pittsburgh, Carly: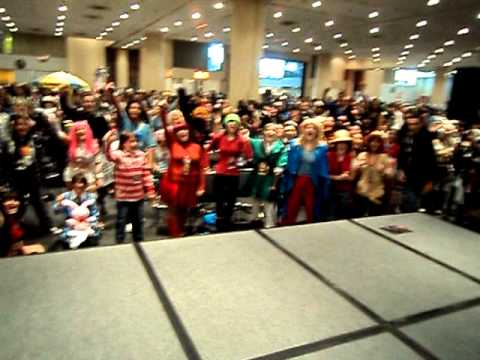 I ran into a lot of friends from college, and friends I haven't seen at conventions for a long time. Sales were great all around the convention, attendance was through the roof (Sorry to disturb your rest, Bullseye), and the only lines longer than admission were for autographs.
The masquerade at NYAF continued to surpass itself this year: I had to break out the tuxedo for this one and open with a very personal speech I gave earlier this year at the Japan Society's Cosplay Party 2.0. The crowd response was universally approving. This year we introduced walk-ons including a ground-breaking Steampunk Ironman and many awesome Marvel characters. A mob of friends with the enthusiasm of a cheerleader squad came on the ALL the '90′s X-Men, hyping the crowd with an energy that almost blew off Cyclops' visor.
…Everyone gets hit. (Everyone gets hit.) With the Laserbeam. (With the Laserbeam).
The skits were mostly cosplay veterans: very diverse, mystical and tone-centric. We even had Gaea online kind enough to web-cast the masquerade online in front of an additional 9,000+ viewers! What a crazy honor that I didn't even know about until the awards ceremony. I choose not to repeat the winners because for me everyone who participated owned that stage. Mario Bueno's half-time show of "Scott Pilgrim vs Comic Con" was met with huge applause, and it was a lot of fun to play Cobra Commander, even if the costume didn't fit one damn bit. (Bueno, I'm cool with us working together, but I'm tired of being the fat one.)
We had a mecha onstage, a recreation of the Avatar final fight scene when the creator of last year's Bumblebee returned to stomp across the competition. I was terrified right down to my monocle.
There were several very meaningful fan encounters that told me why I do what I do. I had a girl near tears to the point where she couldn't even ask for a picture together. If I could show that moment to my 15-year old self, I think I would have left high school with a few less chips on my shoulder. A fan brought me her second baking concoction: a life-size replica of the D.H.F.P.C.o.R.H, and another brought me a pumpkin cake made with cream cheese icing. A long term friend from conventions, the Pink-Haired Superstar gave me a painting replica of the cupcake. And I got some glowing star and devil wands from the cosplay group that was all sparkly. That's love right there, and much tastier than those hairdolls that girl from Statin Island keeps sending me. I had a geek of 60 years quote me after the masquerade. I had a lot of first-time fans come up and just shoot the breeze about their favorite series.
I'd like to address several issues with this year's organization. Many fans came up to me with disapproval of how the anime community was segregated this year. NYAF, an industry-ran anime con (anime cons are generally fan-oriented and fan-run) was pushed to its own corner in the basement. BUT only reason New York City is able to have an anime convention is to share a cab with the financial giant of Comic Con. It's no secret that comic cons are now gargantuan-sized ad spaces for the movie industry: that's just what they have become to stay afloat in the times and challenged economy. ReedPOP made a very careful gamble by merging the events. By combining both cons, dealers and artist alley participants tripled their exposure and their sales. Comic book fans got to give anime fans a shot, and anime fans had the chance to experience a huge event.
Your concerns are heard – we can only make this a better show by working together and volunteering.
I am NOT disappointed or discouraged with how the events were handled. The anime fans stayed together and did what we always do: bonded and partied. Comic con goers stood in lines for autographs and learned about upcoming movies…and animated programs…and comic story-lines they've known about for months. Anime con goers were challenged with intellectual panels about anime's authenticity, history, impact and aesthetic origins. Anime panels TEACH, Comic panels PITCH things for you to buy. (Says the guy using this site to sell a DVD, but let me get to the point.) If this is what it took to bring my friends together, then so be it. It doesn't hurt to meet Stan Lee face-to-face once in a while, either.
We are still dancing.
We are still gathering.
We are still otaku.
They don't have what it takes to shut us down.
Live, laugh and glomp,
~Yo